A Message from our President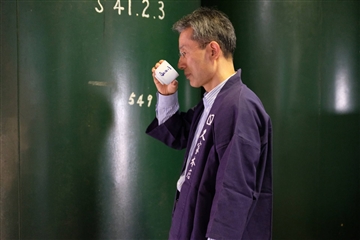 Since Kuge Honten was founded, our main goal has been to over-deliver on our customersf expectations by closely adhering to our management philosophy and core values. gWe are dedicated to providing high-quality sake, and truly care about every individual product that we createh.
In recent years we have adopted the slogan gThe engine of our hometownh, a brewery that will contribute to the promotion and success of our region. Part of this is actively sourcing safely cultivated produce from trusted local venders. By working closely with local farmers, we develop better relationships, and this enables us to collaborate, bringing together all of Usukifs local produce and resources. We even use Usuki Energy for our electricity. And this, along with taking care of the environment, we hope will contribute to the regionfs prosperity.
For me (Satozo Kuge, Representative Director [Featured in the picture]), I was certified as a Sake Expert Assessor by the National Research Institute of Brewing in March 2018.
A Sake Expert Assessor is a connoisseur of sake. To qualify you must have a sensitive palate and the ability to consistently evaluate various characteristics of the aroma and taste of sake. In addition, a keen knowledge of the production method, storage and fermentation process is imperative. For more information, please refer to The National Research Institute of Brewingfs homepage.
From my experience as a Sake Expert Assessor, I would like to share 3 points that I believe are important and help contribute to successfully providing fantastic sake to our customers.
1.@Providing Consistently High-Quality Sake for our Customers
Sake production can be likened to the creation of any luxury item. For example, if the raw sake was a rough diamond, then our final product should be a beautiful Tiffany ring. Although, even with all the potential of a rough diamond, without using the right design, proper methods and processes, the customer would not get the product they adore. Similarly, if the raw sake is of excellent quality but we neglect or fail to follow the processes, such as pasteurization, filtering, and fermentation, even bottling and finally delivery, the quality would, of course, deteriorate.
Toji Matsuno is responsible the manufacturing process at Kuge Honten. He uses his wealth of experience and keen senses to ensure the consistent production of wonderful sake. He is a true craftsman, and his passion, commitment, and dedication are reflected in all the sake he produces for our brewery. We are very happy to have such a fantastic, professional at Kuge Honten.
2.@Ensuring Fairness During the Sake Quality Assessment
I was assigned as a Quality of Sake Evaluator at the Kumamoto tax officefs sake award-Kanpyokai, and at other Oita prefecture breweries association events. I also have experience as a judge at the National Bureaufs Research Institute of brewing.
The breweries that produce the sake I evaluate care deeply about their products, and I think it is extremely important to appreciate their effort. This is why it is essential for me to give a fair, objective evaluation.
By adopting the same, technique, I am able to objectively evaluate our own products, in order to establish our position within the sake industry. And furthermore, this will help us to reveal any potential areas for improvement.
3.@The Pursuit of Delicious Sake
Working in the industry, I get the opportunity to speak to many people about sake. I often receive comments such as gThis sake is delicious!h and gThis one is getting popular!h. I think it is great because I am always learning. Of course, there is a lot of well-known, excellent-quality sake out there. I must admit, I do sometimes ask myself gWhat makes some of them so popular?h. But there is also a huge variety of excellent sake that is relatively unknown in Japan. When combined with local cuisine you will find that the sakefs delicious flavours blend harmoniously with the regional fare.
My main goal is to provide a fair evaluation of sake, not influenced by reputations or the brand, but only by the taste. Of course, I find my gsake lifeh to be very rewarding and I enjoy it very much.
As a company we will also continue to provide our delicious, flagship Ichinoide sake, and going forward, look to improve our local Usuki sake, built on the foundation of our regionfs individuality and uniqueness.
In addition, we are excited to be also applying the same dynamic approach to the improvement of our shochu and liqueur products.
Thank you for your continued support.
Satozo Kuge
Representative Director
Kuge Honten Co.,Ltd.