Oita Yeast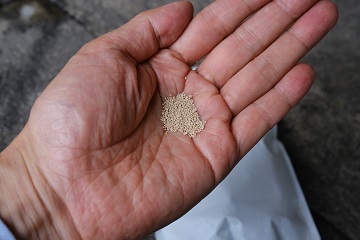 Oita Yeast was developed by the Oita Industrial Research Institute using the prefecture's kabosu juice as a separation source.
In the brewing test, the Oita Yeast evaluation stated that the alcohol yield, flavour, and liquor quality were comparable to those of the Association Yeast and Kagoshima Yeast. In addition, it was said that it's a great combination with our local Toyonohoshi barley.
Our barley shochu - Tsunezo and sweet potato shochu - Tsunezo, produced using Oita Yeast, won the Honour Award at the Kumamoto National Taxation Bureau's Liquor Appraisal in the third year of Reiwa (2021).
The fact that our barley shochu - Tsunezo is produced using the Oita double-barrel of Toyonohoshi barley and Oita Yeast means it's no surprise that it goes well with locally grown kabosu, especially when you think about the yeast's source.
*The photo shows some Oita Yeast (dried yeast) being held.